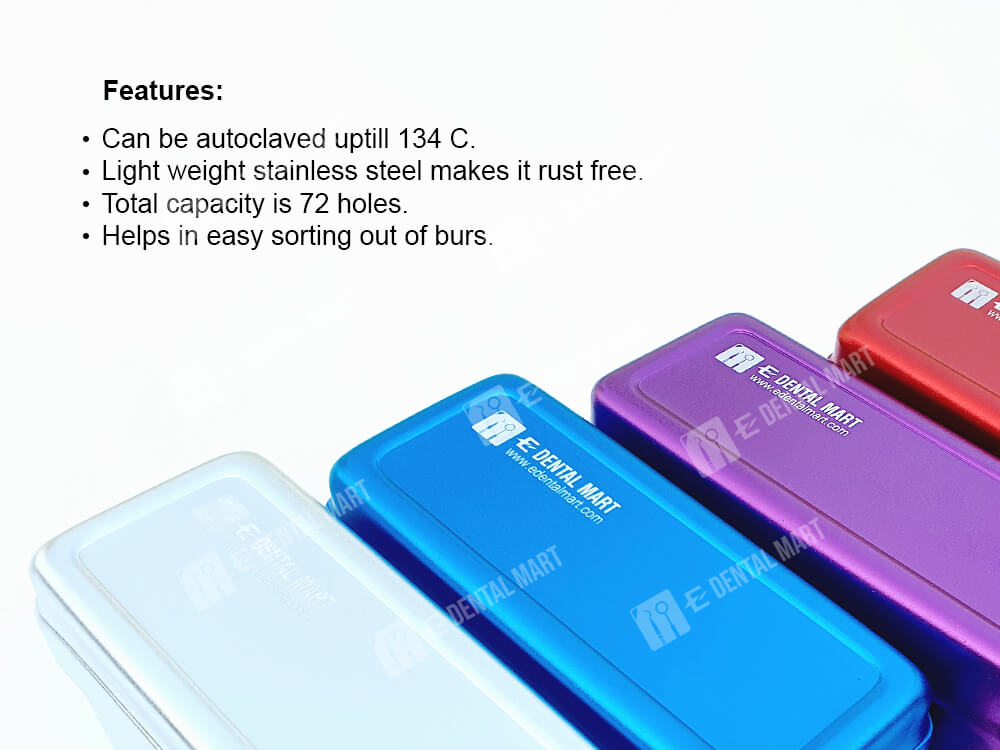 Dental burs are minute blades that are used to cut through tissues in the oral cavity that are hard like teeth or bones. Dental burs are as important as surgical scalpels in endodontic procedures. These burs are used with handpieces of different speeds. Since burs are small and they are available in a huge variety of sizes and shapes for different procedures, it is hard to easily place them in a secure proper place. it is so easy for these small burs to get misplaced or lost. But don't worry anymore because E-Dental Mart brings you Metal bur box. This amazing box to keep burs is made up of premium quality metal. You can now buy metal bur boxes online in Pakistan from our online dental store.
Features Of Metal Bur Box
Metallic bur box available on E-Dental mart is made up of the best quality metal. It is designed to organize burs securely and properly. It provides ease to dentists while working with different burs at the same time. Best metal bur box available in our dental store can be autoclaved and sterilized without getting ruined. Its metal is stainless and rust-free. These qualities of metal bur box make it durable for a long time use.
Metallic bur box is best for keeping burs safe from getting dirty and infected. It is perfect for keeping all burs in one place to easily avail them at the time of need. This best metal bur box is made up of high quality material and it comes with a lid which will keep your burs safe and secure. Available in shiny aesthetic blue color this useful tool is a must for every dental facility for the ease and comfort of dentists.
Uses Of Metal Bur Box
Metal bur boxes are used to organize burs and keep them in a safe place. Burs are small and tend to get lost easily so this bur box can be used to keep them all in place. With metallic bur boxes all burs of different sizes can be organized in a proper manner and safely placed somewhere it is easy to find them in need.